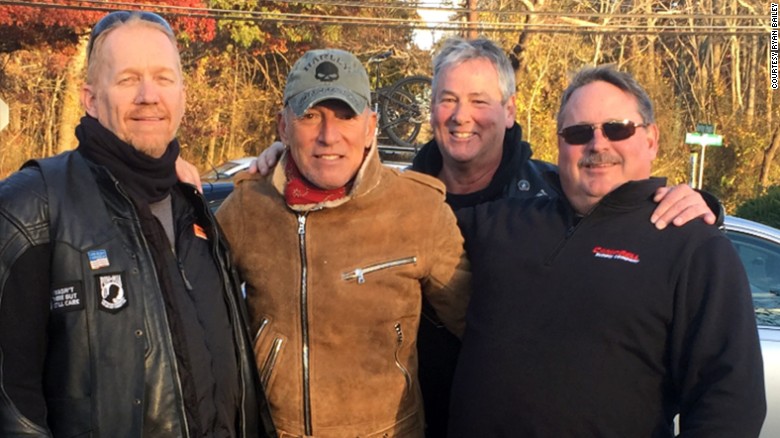 From left: Bob Grigs, Dan Barkalow and Ryan Bailey (Freehold American Legion) with Springsteen

This past Friday, a group of motorcyclists from Freehold American Legion were taking a ride around Manasquan after a Veterans Day event in New Jersey. They saw a man pulled over with a broken bike near Allaire State Park, and decided to pull off the road and help him out.

But as they got closer to the man, they started to notice something familiar about him.

"I just pulled over and got off the bike and said, 'Hey, I think I know you," Dan Barkalow, the lead biker of the group, told Asbury Park Press.
Bruce Springsteen w/ Harley Davidson
The biker on the side of the road turned out to be Bruce Springsteen.
The legendary music icon couldn't manage to get his bike to start. So he hopped on the back of one of the good samaritans' bikes, and joined them for a beer while he waited for his ride. A Freehold native, Springsteen was described by the gentleman as being very 'down to earth, regular guy,'

Crazy, right? How would you feel if this happened to you?!

Comment and tell us your own crazy motorcycle stories for the chance to get featured on our blog and Facebook page!